Studio Closed
Project Studio Spaces for Rent
Sorcerer Sound has ceased studio operations. The space has been divided up into a number of rooms which are available for rent as Project Studio spaces.Call us at 212-226-0480 or visit our Rental Page for more info.
We still have some gear to sell including vintage Neve Modules plus a huge quantity of parts and manuals for sale. See our sale pages for more information.
Our parent company, Acoustilog, Inc. will continue to provide acoustic consultation services to the recording industry as well as commercial and residential clients.

19 Mercer Street, New York, New York 10013 (212) 226-0480
Studio A Photo Tour
Three of these photos are "candid" shots, showing actual studio setups to help illustrate how Studio A's four isolated spaces may be used.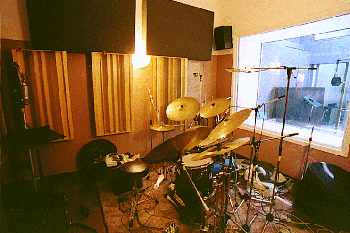 Drum Room
The Studio A Drum Booth is exceptionally well isolated from the rest of the studio. It has a huge window that gives the drummer excellent visual contact with the other players. It features teak flooring, a 13 foot ceiling and 6 RPG diffusers.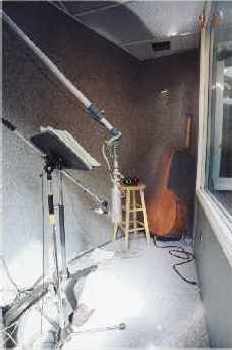 Dead Booth
Studio A has 2 smaller iso booths as well. The Dead Booth at right has an 8 foot ceiling and is suitable for one player or vocalist. There is a wire pass-through into this room to allow a guitarist or bass player in the Main Room to put his amp in the booth for isolation.
Medium Booth
The Medium Booth at left has been used for vibraphone, percussionists (with lots of toys) and as many as three horn players.

Main Room
The Studio A Main Room has a 14' ceiling with a large skylight. One of our Steinway B pianos can be seen at the rear.
Studio A Lounge
The Studio A Lounge also has a skylight as well as a TV set, VCR and two futon couches.
---
Home | Studio A | Studio B | Microphones | Tape Machines | Pro Tools DAW | CR B Outboard | CR A Outboard | Vintage Gear | Instruments | Acoustics | Archiving and Transfers | Client List | Location | Articles | Literature | Home Page with Table of Contents Frame
Questions? Comments? E-Mail us at webmaster@sorcerersound.com
---
Copyright 1996, Sorcerer Sound