Studio Closed
Project Studio Spaces for Rent
Sorcerer Sound has ceased studio operations. The space has been divided up into a number of rooms which are available for rent as Project Studio spaces.Call us at 212-226-0480 or visit our Rental Page for more info.
We still have some gear to sell including vintage Neve Modules plus a huge quantity of parts and manuals for sale. See our sale pages for more information.
Our parent company, Acoustilog, Inc. will continue to provide acoustic consultation services to the recording industry as well as commercial and residential clients.

19 Mercer Street, New York, New York 10013 (212) 226-0480
---
Studio B
Please visit our Studio B Photo Tour for a better look
Studio B is the larger of our two rooms. It features a 62 input classic Neve console and a large live room with lots of unique recording possibilities. As we've said before, our focus is on live recording and Studio B was designed from the ground up with that in mind.

We have recorded four-piece alternative bands, a sixty-voice gospel choir, a seventeen-piece big band, a Brazilian sambareggae percussion ensemble and even a marching band playing the Star Spangled Banner. (standing still, of course)

While most of our work is for album release, we have also done a number of film scores, jingles and even video shoots.

Those with access to Microsoft Word 6.0 or higher can download a preformatted, easy to print equipment list for Studio B.
---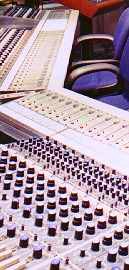 Customized Neve 8038
62 Inputs
All Discrete Circuitry
Up to 50 Extra Returns
8 Independent Auxiliary Sends + 16 Custom Buss-Aux Sends
Acoustilog Spectrum Multilyzer

200 Segment "Plasma" Display
Simultaneous Calibrated Peak and Average Metering on the same scale
Third-Octave Spectrum Analyzer for mix or individual channels
---
Live Room
Quite simply, a great space. The main room has a 25 foot ceiling and has been acoustically treated to make it sound more than twice as large (ask us about this trade secret). The room has a catwalk around three sides about halfway up. The catwalk affords unique possibilities for room miking of drums, string sections and even guitar amps. It has also been used for camera and light placement during video shoots. The room acoustics may be varied using motorized panels that have a hard side and a soft side.
Dimensions
Main Studio: 21' x 47' x 25' Ceiling
Drum Room: 12' x 10' x 13' Ceiling
Dead Booth: 8' x 6' x 8' Ceiling
---

Drum Booth
A live, bright room with a hardwood floor and a stone rear wall that is over 100 years old. Perfect as-is for really big drum sounds, or toned down with absorptive goboes for jazz drummers and other instruments.
Iso Booth
A dead booth, perfect for percussion, upright bass, vocals and more.
Sound Lock
There are convenient "Mouse Holes" that allow wires to be run into the sound lock between the Control Room and the Studio so it can be used to isolate an amplifier or Leslie.

---
Monitors
Even if you do most of your work on near-field (small) speakers, you need big speakers you can trust to check the low bass. Our large monitors in both rooms are custom built cabinets with Gauss Coaxial Speakers and Subwoofers. They are loud and accurate and are tuned frequently to keep them that way. We also give you a choice of seven sets of nearfields:
Electro-Voice Sentry 100
Tannoy 6.5
Yamaha NS-10M
ROR E3
---
Headphone Systems
We have several methods for setting up headphone mixes in each room to accommodate different types of sessions and engineers' preferences:
Stereo Mix to Cue
Stereo Mix + Aux Sends
Four Independent Mono or Two Independent Stereo Mixes
Personal 8 Channel Cue Mixers for each Musician, one station with dedicated reverb unit.
---
Home | Studio A | Studio B | Microphones | Tape Machines | Pro Tools DAW | CR B Outboard | CR A Outboard | Vintage Gear | Instruments | Acoustics | Archiving and Transfers | Client List | Location | Articles | Literature | Home Page with Table of Contents Frame
Questions? Comments? E-Mail us at webmaster@sorcerersound.com
---
Copyright 1996, Sorcerer Sound