Studio Closed
Project Studio Spaces for Rent
Sorcerer Sound has ceased studio operations. The space has been divided up into a number of rooms which are available for rent as Project Studio spaces.Call us at 212-226-0480 or visit our Rental Page for more info.
We still have some gear to sell including vintage Neve Modules plus a huge quantity of parts and manuals for sale. See our sale pages for more information.
Our parent company, Acoustilog, Inc. will continue to provide acoustic consultation services to the recording industry as well as commercial and residential clients.

19 Mercer Street, New York, New York 10013 (212) 226-0480
---
Location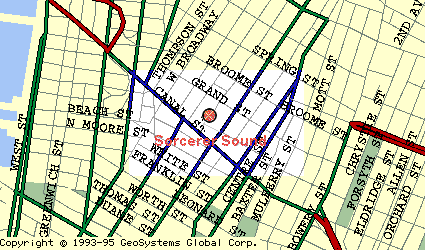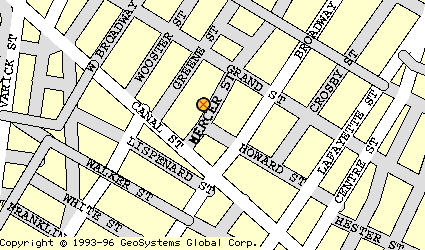 We are located at 19 Mercer Street, between Canal Street and Grand Street in the Soho section of Manhattan. Within blocks of here you can find some of New York's most fashionable stores on West Broadway and some of New York's biggest bargains on Canal Street. We are also within easy walking distance of Chinatown, Little Italy and Greenwich Village.
Food
Our menu book can point you in the direction of practically any variety of food from around the world: Thai, Barbecue, NY Diner, Vegetarian, Gourmet Deli, even a restaurant run by the French Culinary Institute. All authentic and most available for delivery. Use this link to see a list
Hotels
The two hotels nearest to us are the Soho Grand Hotel and the Holiday Inn Downtown, each located about three blocks away. We can also help you find other accommodations nearby.
---
Home | Studio A | Studio B | Microphones | Tape Machines | Pro Tools DAW | CR B Outboard | CR A Outboard | Vintage Gear | Instruments | Acoustics | Archiving and Transfers | Client List | Location | Articles | Literature | Home Page with Table of Contents Frame
Questions? Comments? E-Mail us at webmaster@sorcerersound.com
---
Copyright 1996, Sorcerer Sound