Studio Closed
Project Studio Spaces for Rent
Sorcerer Sound has ceased studio operations. The space has been divided up into a number of rooms which are available for rent as Project Studio spaces.Call us at 212-226-0480 or visit our Rental Page for more info.
We still have some gear to sell including vintage Neve Modules plus a huge quantity of parts and manuals for sale. See our sale pages for more information.
Our parent company, Acoustilog, Inc. will continue to provide acoustic consultation services to the recording industry as well as commercial and residential clients.

19 Mercer Street, New York, New York 10013 (212) 226-0480
Sorcerer Sound Studios
Literature Downloads
We know how cumbersome it can be to print multiple pages from a Web site just to get what ought to be a one page list. So for those of you with access to Microsoft Word 6.0 or higher or the Adobe Acrobat Reader we've made it a lot easier to get concise, preformatted printouts of some of our literature. The equipment lists are one page each and include all the gear mentioned on the Studio (A or B), Microphones, Outboard Gear, Tape Machines and Instruments pages of this web site. The Client List is also one page. Engineers who would like to know more about the Optifile 3D Automation system in Studio A can download the full manual. At the bottom of the page there are links to Spec Sheets for 16 popular studio microphones.

Adobe Acrobat Format
Sorry, but the equipment lists are not currently available in Acrobat Format. Please try the MS Word lists below.

Optifile 3D Automation Manual in Adobe Acrobat format. (128K)
MS Word Format
Studio B Equipment List (57K)
Studio A Equipment List (36K)
Client List (59K)
Those who would like all three lists can save a little bit of time by downloading the Zip file below.
Zip Archive (100K)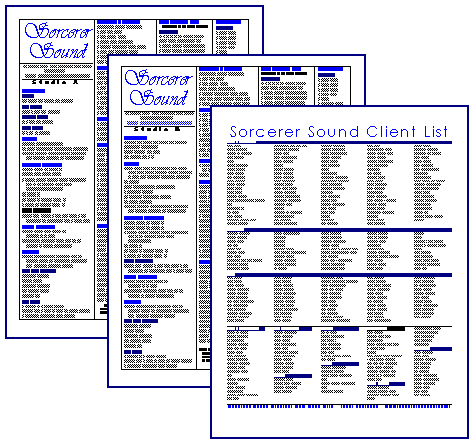 Links to Microphone Spec Sheets and User's Guides

---
Home | Studio A | Studio B | Microphones | Tape Machines | Pro Tools DAW | CR B Outboard | CR A Outboard | Vintage Gear | Instruments | Acoustics | Archiving and Transfers | Client List | Location | Articles | Literature | Home Page with Table of Contents Frame
Questions? Comments? E-Mail us at webmaster@sorcerersound.com
---
CopyLEFT 1996, Sorcerer Sound